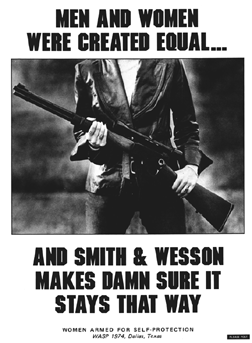 Larger Poster
Drifting from the Mainstream
A Chronicle of Early Anti-Rape Organizing
by Nikki Craft
1972 - 1975 -- New information was surfacing within the women's movement about the myths surrounding rape. Women were beginning to discuss rape in feminist consciousness raising groups. For the first time women could benefit from the experience and knowledge of other women. Susan Brownmiller's eloquent historical analysis in Against Our Will: Men, Women and Rape, Diana Russell's, The Politics of Rape and Medea and Thompson's Against Rape laid the foundation for the changes that would sweep the country in the next decade.
1974 -- A small group of Dallas women left their consciousness raising group and began to organize specifically around the issue of rape. Each woman in the group, including myself, had been raped at one time in her life. Each was tired of talking about it and wanted to act. None of us were exactly sure of what to do. We began by educating ourselves. Part of that educational process was attending an anti - rape conference in Austin, Texas. It would change our lives.
Hundreds of women had come from across the country to convey their individual experiences about rape. We stood dumbfounded as one after another, women went before the microphone sharing all too similar accounts. "When I was 15 a man put a knife to my throat.......When I was 13 my father......When I was 12 I was taking a walk in the park and three men.......When I was 4 a friend of the family.....After I was married for a year, my husband....."
Women spoke of their interactions with the police, with doctors, judges, juries and lawyers. Repeatedly they encountered hostile, insensitive and blatantly suspicious questioning by the agencies appointed to uphold the "law and order". They spoke of being double victims, first by their rapist and then by a judicial system secure in it's 200 years of patriarchal justice. Many women found the aftermath of their rape to be more traumatic and painful than the rape itself. We began to see rape, not as a sexual crime, but as a political crime against women
The experiences gained from psychological humiliation to horrifying accounts of brutal torture. Several women showed gashes from knife wounds and scars from gun shots. As the hours wore on it became apparent that the scars pierced deeper than our flesh.
One woman cried for 15 minutes before the microphone as other women held and comforted her. Finally she managed to calmly state, "during the whole rape I wondered, How can this man hate me so much without even knowing who I am? I am afraid of all men now. I am afraid to walk the streets. I am afraid to be alone in my apartment. I am afraid to be."
There were many tears that weekend and then our tears turned to rage. There would be no more years of silent anger, guilt, anguish and fear; no more acceptance that this is the way it must be. No longer would we exist in isolated cages being forced to deal with rape unprepared until the moment of crisis. There would be no more willing victims. There would be no turning back for us. "WE MUST FIGHT TOGETHER OR BE ATTACKED ALONE" became our battle cry. We knew our only alternative was for all women to join in a common defense against male terrorism.
We were living in a state of siege, moving about in a war zone. Though no official declaration had been signed, statistics proved we were open to attack on all fronts: in our bedrooms, our cars, at bustops, in our marriages, alleyways, in elevators. The wartime curfew had been set. Women were to be off the streets at sunset.
So much was still to be done. We realized that women must work at every level. We needed new laws. We needed new attitudes about sexuality. We needed the most fundamental changes in our culture. At the time however, the most crucial need was to open our communication with other victims of rape. Our group established a brief alliance with the newly formed Dallas Women Against Rape (DWAR). Their goal as a volunteer agency was to provide counseling and support for victims of sexual violence.
WORKING WITHIN THE SYSTEM
The phones began to ring; one woman after another called in. There were women who needed protection from their husbands because the police would not intervene; and women who needed companionship as they went through the ordeal at the hospital. There were those who needed to talk about rapes that had happened years before and others who had been raped only hours before. One woman called minutes after a rapist had left her house. She did not want to go to the police, but only wanted to go to a place where she could feel safe. (Dear God, I thought, there is nowhere for us to be really safe. But I did not tell her that.)
There was a seminar held with the Dallas Police Department, an effort to sensitize the police officers and change their methods of dealing with rape victims. The officers surely learned something, but I am sure we must have learned more. We discovered how little progress the anti - rape movement had made. Our optimistic enthusiasm dwindled with the realization that we had underestimated the task before us. This would be a movement years in the making; a lifetime commitment.
We began to wonder how long we could continue counseling women who had been victims of male rage. We were exhausting ourselves doing what women have traditionally done, volunteering our time, our energy and our lives to apply band-aids to a system that required major reconstructive surgery.
There were weekly meetings that drained our energy. There were personality conflicts and trivial infighting over issues which blinded us from seeing our committed goal. And as always there were financial strains. Where would we get our money? From individuals? From foundations? Or would we be co-opted into a county-run-county-funded, non-political social service agency? The more establishment-oriented faction of DWAR began to hint that being too vocal in our criticism of the police might hamper our ability to get funding. This began the first rumblings of what was to end in a major split within DWAR.
FALLING FROM GRACE
We were young and naive. We were primarily politically oriented and made better activists than counselors, but we were learning. Several of us had never worked within a group and it was difficult for all involved. We were dogmatic and arrogant. We had no patience; the task ahead was too awesome and urgent. We were overflowing with anger and DWAR no longer met our needs. In retrospect, the group was probably relieved when we packed up one evening and left their organization.
A WALK ON THE WILD SIDE
Suddenly we were individuals. We were six women, free to move, unhampered by the burdensome group process that existed at DWAR. We were excited. We had all night brainstorming sessions. Our plan was to seek out less traditional avenues of expression where we would perhaps work more effectively. The sky was the limit. In a world where we saw no justice, it was no longer useful to restrict our work to the confines of the law.
Our split from DWAR isolated us from much of the women's community. The more isolated we became the more radical we became. We sensed our own power. We began learning to use guns. We became WASP--Women Armed for Self Protection.
Our first leaflet ended:
"WE ARE WOMEN...WE ARE ARMED. WE REPEAT...WE ARE WASP.
WE ARE PREPARED TO STING.
WE SUPPORT IMMEDIATE AND DRASTIC RETALIATION AGAINST ALL RAPISTS."
In Texas the right to bear arms is not only a constitutional one, but it's a god given one. This applies to everyone except blacks and women. The authorities were none to pleased to have angry feminists advising women to arm themselves. Many women already had guns--we advised them to learn how to use them. "Women must perceive themselves as being worth defending. In a life threatening situation there must be no hesitation to pull the trigger," read our statement of purpose. Police intelligence officers began paying "friendly" visits to our instructors and friends, our phones were tapped. Paranoia set in. Were there infiltrators among us? We drifted even further from the mainstream.
Posters appeared in Dallas reading, "MEN AND WOMEN WERE CREATED EQUAL AND SMITH AND WESSON MAKES DAMN SURE IT STAYS THAT WAY." A woman was depicted in a militant stance with rifle resting across her chest. Graffiti appeared on the side of a building at a busy intersection reading, "WOMEN--CASTRATE YOUR RAPIST--LET HIM KNOW WOMEN DON'T ENJOY BEING RAPED."
We urged lawyers to refuse to defend rapists as an expression of solidarity with women. We publicly praised women who had killed rapists in self-defense or even after the fact, as in the case of Inez Garcia.
Amidst much criticism we began getting letters of support from women across the country. Many women were ready for defiance. They wanted to channel their anger and were ready to hear what we had to say, even if it was rhetorical and rigid. Four women came from Chicago to meet with us, share ideas, and discuss strategy. National communication became important. A network began that would be used in actions over the next seven years.
In the end of 1974 we began observing rape trials. During these trials another important coalition was formed. We brought reporters and journalists into the courtrooms. This resulted in local and national publicity. As more and more articles appeared we realized the power of the media. By stating our goals and ideas clearly, we discovered that reporters would relay our message to a broader segment of middle America.
Reporters were as interested in us as we were in them. However, it did not take long to realize what a tenuous alliance we had with them. It took diligent work to keep the issues alive. What was front-page news one day was old hat the next. We were also surprised to find that journalists were as capable of manipulating situations and events as we were.
We began to look suspiciously at traditional "objective" journalism. We wanted changes and saw the media as a means to facilitate them. When possible we hand picked reporters. After compiling lists of sympathetic journalists we kept them informed of our work.
We extended tremendous energy communicating with the press, possibly placing excessive importance on news coverage. In reality all those articles have since been used as kindling or even recycled into toilet paper. But the ideas remained and over the years contributed to an undeniable change in consciousness and attitudes about women and violence.
FEAR AND LOATHING IN AMERICA'S COURTS
In October of 1974 we attended the rape trial of a black prostitute. It was clear that she and not her rapist was on trial. We watched in disbelief as she was questioned relentlessly for hours about her past sexual history and Valium addiction. The rapist, a white middle-class male was not even required to take the stand. We sat silent in the courtroom as our insides screamed.
The trial dragged on for days. When the all-white jury finally returned with the verdict and the judge proclaimed "not guilty" it tore into us with the impact of an automobile traveling 90 mph into a brick wall. When the rapist was escorted away from the courtroom by two police officers (for his protection from us) it was too much salt in our wounds. We went into a frenzied rage that lasted for days.
Because of the incredible brutal nature of the rape we felt it was our responsibility to warn others. If the judicial system would not protect women we would have to do it ourselves. The woman he had raped and two of her friends joined our group and after days of work and discussion we produced 10,000 leaflets that included his address, place of employment, facts of the trial, as well as educational statements about rape and our society. We included side and frontal photographs of him that we had secretly taken outside the courtroom. The leaflet was headed, "THIS LEAFLET IS NOT AN ACCUSATION OF GUILT. IT IS A WARNING TO ALL WOMEN OF A POSSIBLE THREAT TO THEIR SAFETY."
We worked diligently to make the leaflets accurate. We felt it our personal responsibility for legal as well as moral reasons. We leafleted his neighborhood and place of employment. We discovered that his employer knew nothing of the charges or the trial. Within the week he was fired from the job he had held for over 10 years.
BURNING OLD NEWSPAPERS
This was WASP's last action. We were badly in need of rest. Our isolation had made us rigid. Inflexibility was making us unable to see new, more creative approaches. Our goal had never been to build an institution. When WASP ceased to meet our needs, we dissolved the group as fast as we had created it.
We moved into a period of inactivity--a time for reflection. We took with us the experiences that will last for life times and skills that would be invaluable in future work. We took with us feelings of power, accomplishment and pride that made us each stronger. We even have given other women a bit of that strength and excitement. I see it glimmering in their eyes, as we sit years later, talking of those times over coffee, burning wood and old newspapers.