My mom, Evelyn, and her consciousness raising group protest at the Dallas Morning News offices in 1970. They wore sunglasses as disguise to protect their jobs and them from the angry backlash ever present against uppity women who dare speak out against discriminatory policies. Her continued insistance that she should not be required to wear a dress at her job, when men weren't required to do the same, resulted in the change of policy that finally allowed women to wear pants while working at Dow Jones. I doubt I would have been a political activist if I hadn't seen my mom stand up to these kinds of injustices while I was growing up.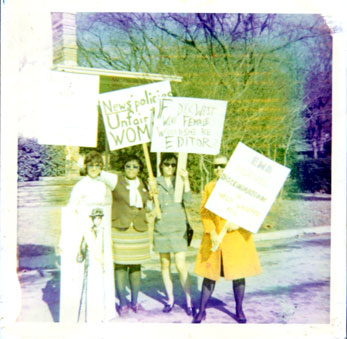 Lady Libs Bring Gripes to the News
December 6, 1970
Women Lib protesters decided Saturday The Dallas News has been "skirting" the issues.
"End sex discrimination in the help wanted ads," was the cry of seven members of the Dallas Area Women's Liberation group picketing in front of The News building for about two hours.
They also found "offense" in The News' policy of printing a "women's" section and an editorial policy that they said features "hearsay rather than facts."
"Ads for jobs should be alphabetized rather than listed for male and female," said Annette Kennard, spokeswoman for the group.
They also questioned the position of a man as editorial director.
"If Dick West were female," said a sign, "Would she be editor?"
[In spite of the condescending language in the article, the newspaper's policy did change shortly after that.--Nikki]